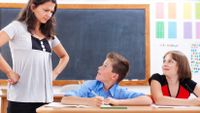 Negative attention doesn't help difficult students change their ways, but teachers can alter classroom dynamics through this exercise.
Negative attention, or punitive communication, is a common, unconscious habit of defense when a familiar environment feels unsafe or unmanageable. Educators may turn to it instinctively when they feel frustrated because they see their work being disrupted. But difficult students don't benefit from being punished.
Generally, guidance about challenging behavior at school targets the challenging students. I'd like to break this unidirectional point of view and approach the topic by looking at the educator. I want educators to feel physically and emotionally safe in class always. And I want empathic educators who are confident and prepared for their response toward challenging behavior—their own included.
"Behavior is communication. Behavior has a function. Behavior occurs in patterns," Nancy Rappaport and Jessica Minahan write in The Behavior Code: A Practical Guide to Understanding and Teaching the Most Challenging Students.
Unfortunately, the same is true of negative attention. Negative attention communicates that an educator doesn't know any other language to access the relationship with a student. Negative attention's function is self-protective and unconsciously anti-inclusive. Negative attention's pattern sounds loud and looks clumsy.
"The only behavior teachers can control is their own," Rappaport and Minahan advise. What follows is an idea that can help teachers change their responses to challenging, disruptive behavior.
MAPPING BEHAVIOR